In this guide, we will show you how to make and install Vital skins.
Starting from version 1.07, Vital users now have the ability to make and install custom skins that change the look of Vital's UI. 
These custom skins are a great way to showcase your creativity, match the aesthetic of your studio, and reignite your inspir2ation!
And ever since this feature was launched, Vital users have gone crazy making all kinds of custom skins!
But with all of the free skins floating around, it can be hard to find one that really speaks to you.
So, to make things easy for you, we've gathered up our top five favorite free skins!
Before we begin, let's go over how to make and install your own custom skins in Vital.
How To Install Custom Vital Skins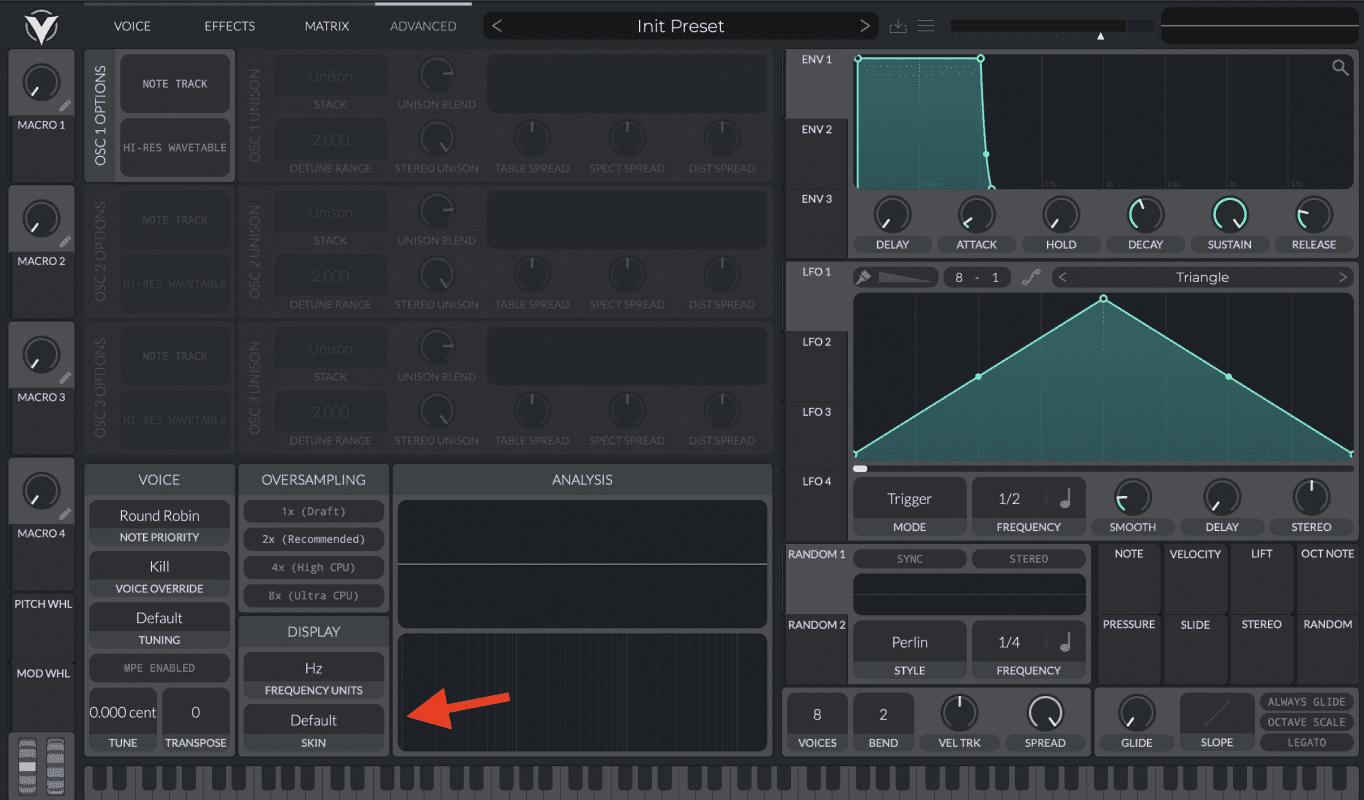 Before beginning, you'll want to find and download a custom skin for Vital. We recommend checking out the list at the bottom of this post that contains our top 5 favorite skins, but any skin will do!
Once you've downloaded a custom Vital skin, all you have to do to install it is open up Vital and navigate to the Advanced Tab.
As soon as you're there, look for the box labeled "skin".
Click it and you'll be presented with a menu that gives you the option to reset your skin to default or to import a custom skin into Vital.
Choose the "Load Custom Skin" option and then navigate to any skin you've downloaded and select it.
Once selected, Vitals UI should immediately update to the new skin!
Note: In the event that you want to go back to the default Vital skin, select the "Default" option in this menu, and Vital will return to its default skin.
How To Make Your Own Custom Skins in Vital
Downloading skins made by other people can be a lot of fun…
But making your own custom skin can be even more rewarding!
You could make a skin that matches the aesthetics of your project, studio, or even your DAW.
And thanks to Vital's built-in skin editor, making your own Vital skins is super easy!
How To Use Vital's Skin Editor
To get started on your own custom skin, just ALT + Click on Vital's main menu icon and select the "Open Skin Designer" option.
Once selected, you should see a window pop up that looks like this: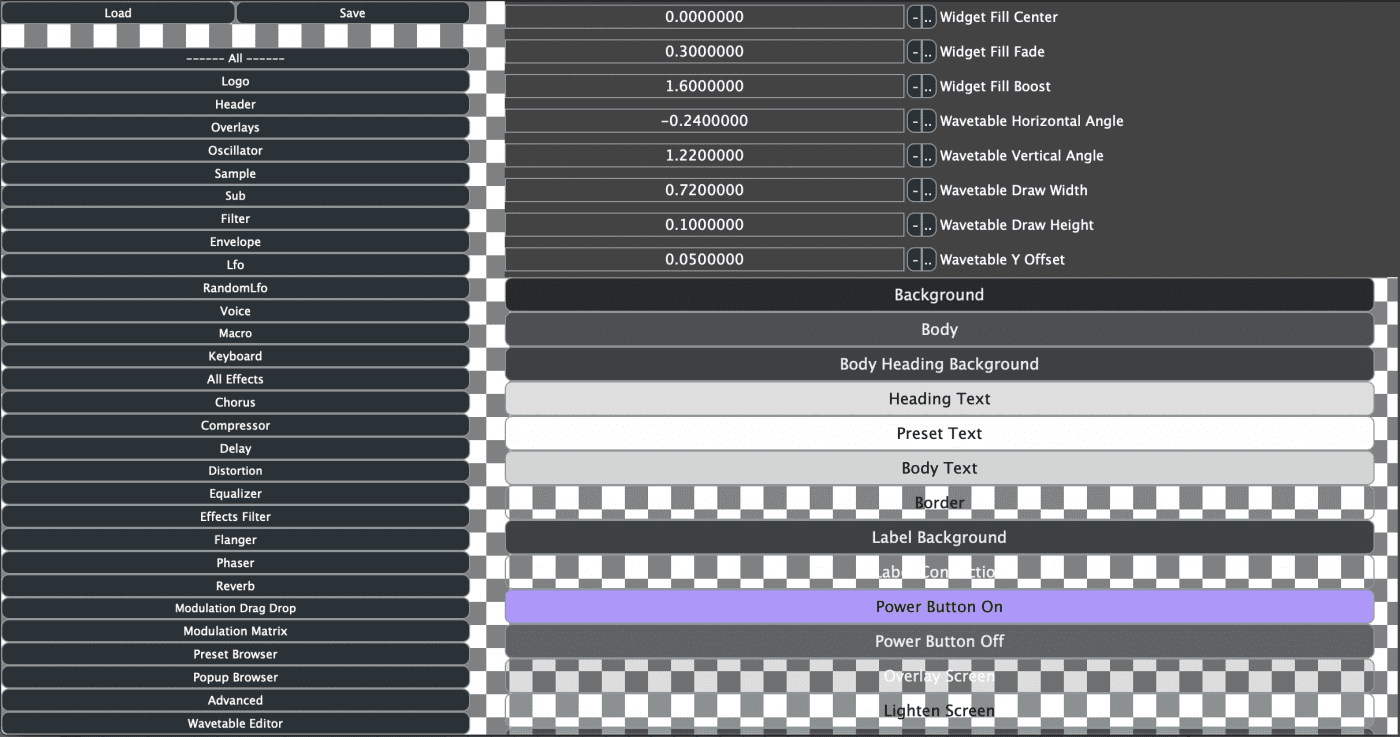 This window is the skin editor that you can use to customize Vital's UI.
At first glance, the editor can be a bit intimidating, so we will walk you through some of the basics.
Firstly, on the left side, you can select which elements you want to edit. This breaks things up so you can edit just the Oscillators or LFO's, for example. 
Then, after you select an element, you can change its appearance by adjusting the parameters on the right-hand side. This is where you will change the color of each individual element, like the colors of the LFO shapes.
Now at this point, you can see that there are a LOT of things that you can edit with Vital's skin editor. 
So before making your own skin, we recommend going through each element and changing its settings and color to see exactly what it does.
Then, once you've adjusted a bunch of parameters and gotten a feel for things, just reset Vital to the default skin.
Now you're finally ready to start working on your masterpiece!
And to help give you a starting point, here are the most commonly reached for editor controls:
Note: Controls are read as [Left Column Selection] -> (Right-hand label) – Effect
All -> Background
Changes the main background color of Vital's UI
Filter -> Widget Primary 1
Changes the outline color of the filters
Filter -> Widget Secondary 1
Changes the fill color of the filters
LFO -> Widget Primary 1
Changes the outline color of the LFOs
LFO -> Widget Secondary 1
Changes the fill color of the LFOs
Oscillator -> Body
Changes the main color of the oscillators
Oscillator -> Widget Primary 1
Changes the outline color of the wavetable
Oscillator -> Widget Secondary 1
Changes the fill color of the wavetable
Once you've created your custom skin, be sure to save it using the "Save" button in the top left corner of the skin designer!
Our Top 5 Favorite Vital Skins
Summary
To conclude, custom Vital skins are a lot of fun and can help you express your creativity as an artist.
And now that you know how to make and install Vital skins, we hope this list helps you make the most of these custom skins!
If you have a favorite skin that we should know about, be sure to send us a link to it on social media.
We will be updating this list to include more and more skins as we find them!
Share These Free Vital Skins With Your Friends